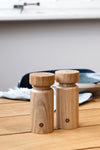 Helsinki 13cm, oak - 2pcs set
Tax included. Shipping calculated at checkout.
The Helsinki grinder has a shape that simultaneously looks ancient and contemporary with a modernist inspired silhouette. It's timeless, architectural form looks fantastic in the warm and natural FSC® (C132484) certified oak wood.

The size makes it perfect for both your dining table and kitchen. And the grinders are mounted with our CrushGrind® mechanism.
Design by IDEAS / Sam Murley 
EAN 5712898001216