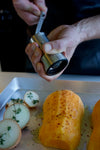 Copenhagen - 1 pcs
Tax included. Shipping calculated at checkout.
Copenhagen is the pinnacle of our grinders and it sets new standards for crank handle grinders. It is made in high end stainless steel and designed in a retro shape that gives it a masculine and industrial look.

Copenhagen is perfect for use both in the kitchen or at the barbecue because of it's high output.
The grinder is mounted with the patented mechanism from CrushGrind®.
Design by Jakob Herold
EAN: 5712898000370